According to a recent study by Gallup, Millennials value career advancement more than salary, flexible work, health insurance, and all other benefits.
So what exactly is career advancement and why is it important? It's when employees move toward more challenging job opportunities to achieve their career goals. This prevents mediocrity and job dissatisfaction as employees take on additional roles and responsibilities; it also creates an opportunity for employees to pursue other career interests and continue their learning.
Developing a Professional Development Plan is the first step in career planning. Below are the four components of a Professional Development Plan (PDP). Let's discuss them in-depth:
Goals and Aspirations
Strengths and Talents
Opportunity Areas
Action Items
1. Goals and Aspiration: Both the short-term and long-term goals need to be crystal clear. Below are some questions to ask yourself to identify short-term goals:
Where do I see myself in the next 1-3 years?
What are my biggest strengths?
How can I use my strengths to achieve what I want to accomplish over the next 1-3 years?
What skills do I want to develop that would have the biggest impact on my current role?
Long-term goals are even more important for future career advancement opportunities. To determine your long-term goals, consider the following questions:
Where do I see myself in the next 3+ years?
What skills do I need to develop to meet my long-term goals?
Do I have any long-term goals for my personal life that may impact my long-term professional goals?
What does career success look like for me?
2. Strengths and Talents: Now it's time to identify your strengths and talent areas, both from your own perspective as well as other people's perspectives. Ask yourself and others:
What work do I enjoy doing?
What work am I good at?
What unique value do I bring when I am at my best?
3. Opportunity Areas: Next, identify the opportunities for your future growth. Start by answering these questions:
What should I improve to be successful in my current role?
What do I need to focus on to be successful in my next role?
4. Action Items: The best method for preparing an action plan is by using the 70/20/10 model. The model says that the best learning uses pedagogy, andragogy, and heutagogy, where you spend 10% of your time learning from a teacher, 20% of your time learning through others, and 70% of your time learning experientially.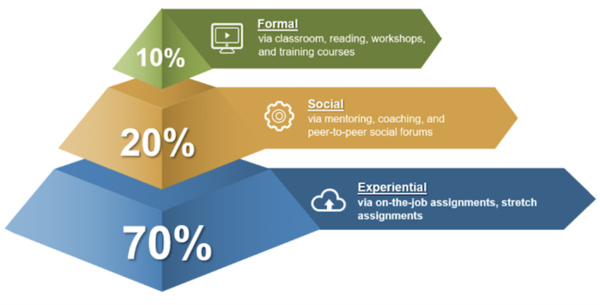 An example would be a Project Management Professional (PMP) certificate, where a training course could cost $5,000, plus $500 for the exam and a week of your hard-earned vacation time. However, if you use the 70/20/10 model, you could partner with a PMP-certified individual for a period of time, to learn aspects of project management; you could also complete a rotation in your organization's program management office (70%). Next, you could join a PMP online forum to ask questions and learn from others (20%). Finally, you could take a 1-day online course (10%). By learning from multiple people in various ways, the learning will be more robust and sustainable.
Once you identified your 70/20/10, it's time to create SMART goals (Specific, Measurable, Attainable, Relevant, and Time-based) based on the four components of a Professional Development Plan.
In order to make your goals specific, focus on these questions:
What work needs to be executed?
Who's responsible for doing it?
What steps need to be taken to attain it?
Find a way to make things measurable—even if they are measured by 'Yes, I did it.' or 'No, I didn't do it.' The goals have to be attainable so you can see the progress being made and feel good about it. Next, ensure the goals are relevant given your present circumstances. Finally, be sure to have time-based goals which identify clear deadlines and checkpoints.
Whether your ultimate goal is to claim your seat in the C-suite or launch your own business, using SMART goals in your PDP using 70/20/10 will help you along the way.
Let us share experiences.  Leave a comment below, send me an email, or find me on Twitter.